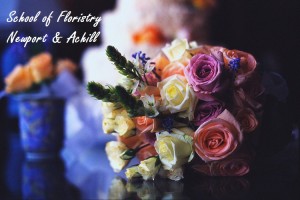 The School of Floristry Newport & Achill

has been in existence since 2004 and classes are held in both Newport and Tonragee (Achill) on the R319 Achill/Mulranny Road beside the new cycling/walking trail The Great Western Greenway with beautiful views of the mountains and sea.  The school is run by Deirdre Mc Carthy.  Deirdre studied Floristry in Paris for 4 years.
If you are interested in Flowers and Floristry or would like to start your own Floristry Business why not come to this beautiful part of the West of Ireland and be inspired to make beautiful floral arrangements by the amazing scenery around you.  There is a plentiful supply of accommodation in the area with beautiful walks and blue flag beaches to get you out and about when the course finishes each afternoon.
Floristry Courses (of 1 to 5 days duration and weekends) are held throughout the year.  
One day Floristry Workshops                               €100 – €120
Introductory Floristry Course                                €395    4 days
Bridal Floristry                                                    €395    4 days
Contemporary / Advanced Floristry                       €220    2 days
Start your own Business Floristry course              €515    5 days
(Tuition is held daytime either 10.30am – 3.30pm or 11.30am – 4.30pm)
All the fresh flowers and floral materials required for each student to complete their design are provided at the school.  The arrangements are yours to take home daily.
Lunch & Tea/Coffee are provided.
Please contact Deirdre for further details.
Contact details;
Tel; 00353 (0)86 8526717
Email: schooloffloristrynewport@gmail.com