Gift of Hands Craft Shop is situated at the Old Irish Goat Centre in Mulranny Village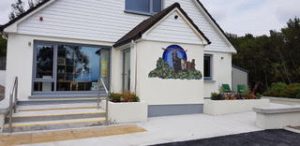 Gift of Hands is a voluntary group in Mulranny whose ethos is Learn, Share and  Contribute. They are a group of creative women who give their time and skills to make  beautifull craft items, largely made from cut offs and end pieces from Foxford Woolen Mill.  Many tons of this material, formerly sent to landfill, has been repurposed to produce  hand crafted rugs, cushions, fibre art pictures, soft toys and much more.
The shop also showcases a range of other Co Mayo Artists and Crafters.  
All proceeds from the sale of Gift of Hands products are donated to  other voluntary groups and projects in Mulranny, to support their  valuable work on behalf of the community.